In 2004, my father was in his sixtieth year. For various reasons, he made up his mind to be an independent business.
At that time, China's economy was undergoing rapid development, and it had become a trend for the people to replace labor with machines. His father's eyes were cast on the computerized flat knitting machine industry. Only a few well-known sweater companies in China have begun to use expensive imported computerized flat knitting machines, and it takes about 450,000 RMB to buy a Shima Seiki or STOLL machine. Most sweater factories still use hand knitting machines, which are truly labor-intensive industries. The sweater industry is also developing rapidly. At that time, there were less than 10 domestic machinery factories producing computerized flat knitting machines, and the selling price was about one-third of that of imported knitting machines. Although the technology was not very mature, the prospects were very good.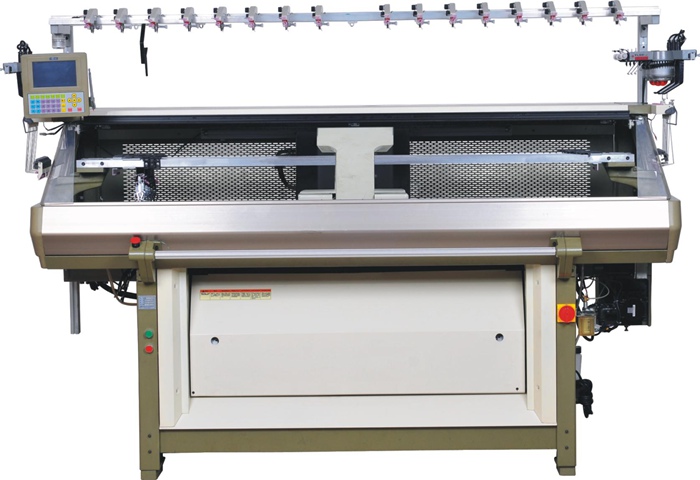 The first-generation computerized flat knitting machine of Dawei machinery
Because of the successful experience of imitating the glove machine. At the end of 2004, my father asked someone to buy an original Shima Seiki computer flat knitting machine. Rented a building next door to Jinteng Factory and started trial production of computerized flat knitting machines. At the same time, a factory was established in Kebei Industrial Park in Keqiao, where our current factory is located.
A new company was registered in 2005, so what is the name of the company?
My father said: You are all college students, help me get a name for the factory. We were very serious. We thought of a lot of names for him, and even referred to the time-honored brands that grandfather used to do business, but he was not satisfied.
In my memory, my father suddenly patted his head and said, "I think it's called Dawei. The glove machine is a small flat knitting machine. Next, I'm going to make a big flat knitting machine." Our company name and brand name "Dawei".
Now we are back with a small flat knitting machine: high-speed glove machine, but we will stick to the name of the factory, because it carries my father's ambition for the rest of his life!